Simple and flexible pricing
NemoVote offers both live online voting (where everyone is online and voting simultaneously) or non-live elections/voting where the ballots are open for a given time and voters can choose when to login and vote.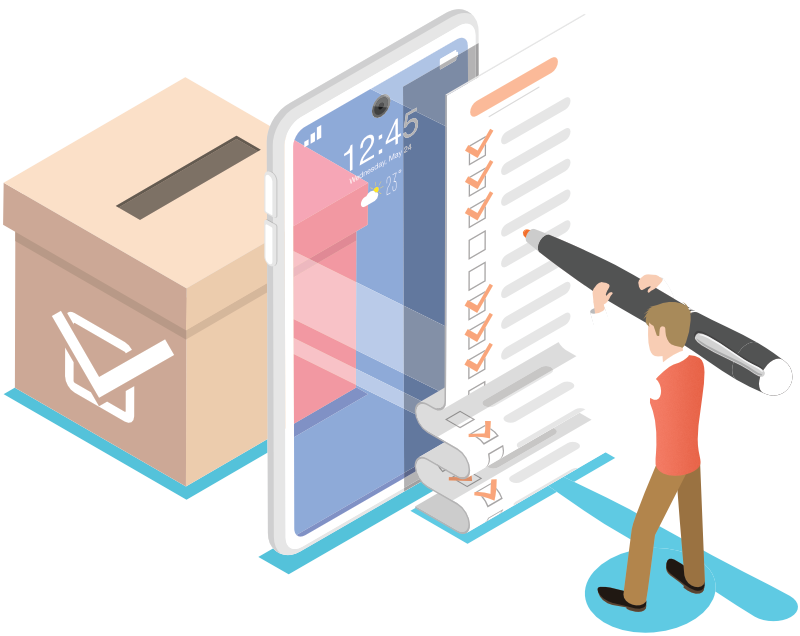 Need a special quote? Contact us!
Get in touch with one of our election managers and we will assist you with your questions and requests. 
Save up to 72% on your vote compared to competitors
For example a one day vote with NemoVote will cost you for 200 voters 139EEUR compared to up 500€ with our competition.
Self administered live online voting
* USD prices available directly in the configurator. Please click Book now to access USD-pricing. all prices shown excluding 19% German VAT. If you are taxable, VAT will be added during checkout.
One-time event
starting from
Usefull if you fave just a few events per year

Including 10 voters and 1 voting day

from additional 20€ for additional voters

Data reusage (charged extra)

Add your own logo and colours

Priority support
One-time event
starting from
Usefull if you fave just a few events per year

Including 10 voters and 1 voting day

from additional 20€ for additional voters

Data reusage (charged extra)

Add your own logo and colours

Priority support
Self administered

non-live

election/voting
One-time event
starting from
Usefull if you fave just a few events per year

Including 10 voters and 1 voting day

from additional 20€ for additional voters

Data reusage (charged extra)

Add your own logo and colours

Priority support
One-time event
starting from
Usefull if you fave just a few events per year

Including 10 voters and 1 voting day

from additional 20€ for additional voters

Data reusage (charged extra)

Add your own logo and colours

Priority support
Managed Election Setup
we setup your vote for you

including voter upload

creation of ballots

Free inclusion of white label option (include your own logo)

Data reusage (charged extra)

Add your own logo and colours

Priority support
live support
A NemoVote Election technitian is constantly live online with your through a means of your choice

Including 10 voters and 1 voting day 

Data reusage (charged extra)

Add your own logo and colours

Priority support
standby support
A NemoVote Election technitian is on standby online with your through a means of your choice

Including 10 voters and 1 voting day 

Data reusage (charged extra)

Add your own logo and colours

Priority support
Get your free NemoVote test now: